Kirstie Lequerica – Solicitor Ayr Office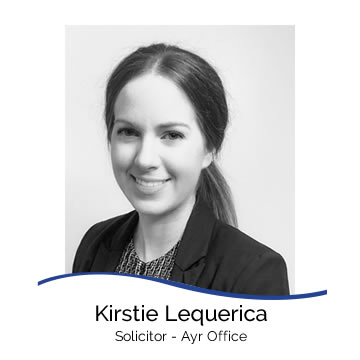 Background
Born & bred in the Burdekin, Kirstie graduated from James Cook University in 2013 with a Bachelor of Laws and commenced a Supervised Traineeship at our Ayr Office in 2014. Kirstie was admitted to the Supreme Court as a lawyer in 2015. Kirstie and her husband are local to the Burdekin and welcomed their first child in 2018. Kirstie is currently on maternity leave.
Areas of Practice
Kirstie's primary practice areas include commercial leasing, commercial transactions, wills, traffic matters (specifically drink driving matters, Special Hardship Order Applications and Restricted Licence Applications) and debt collection.
Qualifications and Memberships
Bachelor of Laws – James Cook University
Solicitor – Supreme Court of Queensland and High Court of Australia
Member – Queensland Law Society
Community Involvement
Kirstie provides legal advice on an honorary basis to local not-for-profit community organisations.