Peta Vernon – Solicitor Bowen Office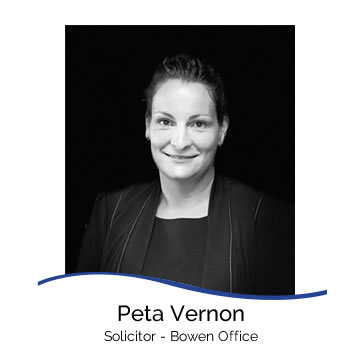 Background
Peta graduated from Central Queensland University in December 2015 with a Bachelor of Laws and thereafter undertook a 12 month traineeship with Ruddy Tomlins & Baxter. Prior to this Peta worked for many years as a paralegal both at Ruddy Tomlins & Baxter as well as another local firm.
Areas of Practice
Peta has an excellent knowledge of general practice having worked in the industry for over 10 years. Peta has worked closely with Leah McDonnell & Kevin Baxter assisting on numerous matters over a wide are of practice, but primarily in Criminal and Family matters.
Qualifications
Solicitor of the Supreme Court of Queensland in December 2016
High Court of Australia in January 2017.
Community Involvement – Hobbies
Peta is dedicated to her family & enjoys participating in ultra marathon and cycling events. She is a member of several local committees and enjoys engaging with the community through organisation of fundraising events for both local and national organisations.
Contact details:
8 Gregory Street, Bowen
t: 47862600
e: peta.vernon@rtblegal.com