Kevin Baxter – Senior Director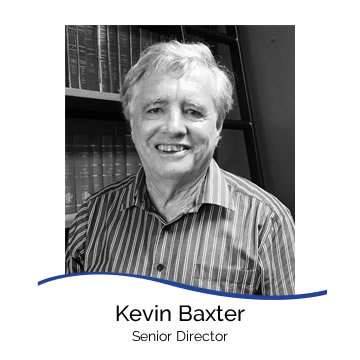 Background
Kevin Baxter was admitted as a Solicitor of the Supreme Court of Queensland on 14th August 1973. Following his articles with Mighell Bryce and Vandeleur in Innisfail, Kevin joined his brothers Brian and Terry in 1973 at Ruddy Tomlins and Baxter Ayr and became a Partner shortly thereafter in 1974. Ruddy Tomlins and Baxter Ayr also serviced the Bowen region and in 1982, Kevin permanently relocated to Bowen with his family to manage the Bowen office.
Areas of Practice
Kevin has enjoyed many years with the firm and specialises in personal injury claims. Having gained valuable experience in most facets of law has enabled him to achieve positive outcomes in a variety of matters for his clients.
Community Involvement
Kevin is an active member of the Bowen community having joined many committees during his time in the region including board member with Cunningham Villas Aged Care and a long term board member of Murroona Gardens Aged Facility Bowen.
Among Kevin's personal achievements was being awarded Citizen of the Year and the PCYC highest fundraiser award. Kevin was a member of P & F at St Mary's Primary school for over 25 years. Kevin continues to participate in a number of different local sporting clubs and particularly enjoys squash. Kevin excelled at Little Athletics and continues to hold records with the club.
Contact details:
8 Gregory Street
BOWEN QLD 4805
t: 47862600
e: kevin.baxter@rtblegal.com.au